Final Analysis Property Inspections llc
Providing professional Home and commercial Inspection services in Virginia Beach, Norfolk,
Chesapeake, Portsmouth, Suffolk, Hampton, Newport News, New Kent,
Charles City, Williamsburg, Gloucester Point and all of Greater Hampton Roads since 1991

or call 757 495-2300

When "Functional" is not good enough. Our detailed inspections & reports can make a difference of thousands of $$$. You may be surprised & definitely empowered by the knowledge we'll provide you with about your house.
Hampton Roads premier home inspection service provider of Southeastern Va. Having performed thousands of home and commercial inspections for buyers, sellers, investors and builders in Virginia Beach, Chesapeake, Norfolk, Williamsburg and surrounding areas since 1991. Our Home Inspectors have built a reputation on performing high quality home inspections with detailed inspection reports that provide our clients with the knowledge, leverage and advantage in the competitive real estate market in Hampton Road.
We understand that you are placing your trust in us to provide a detailed, competent inspection. It's a responsibility we do not take lightly. Our professional home inspection service is intended to reduce your risk as a home buyer and reduce potential losses as a home seller. Our detailed home inspections and thorough inspection reports will make the entire home buying process easier and less stressful for buyers or sellers involved in the real estate process. We know home structures and systems more than anyone, but most of all we enjoy providing our clients with this experience and knowledge in a home inspection service that will protect and empower them to make safe informed decisions while buying or selling a home.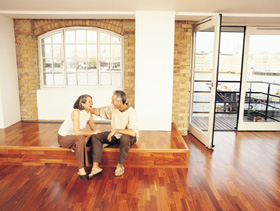 Lets learn about your house together - We encourage all of our clients to accompany us during the inspection but if you can't be there you will be well represented in your absence because we document everything in great detail. We are available to answer your questions during the inspection and provide support and advice on your home long after the inspection is completed. All homes have some level of defects or deficiencies so the inspector will identify and report on serious problems and smaller deficiencies and make distinctions of what's serious and what's typical. Essentially we want to identify issues that can have a negative impact on the value and/or safety of the property. Our inspection process will help you to get the most benefit from the inspection by increasing your understanding of the property thereby limiting your risk in purchase.
You'll get a comprehensive report that is easy to understand. Everything identified during the inspection will be included in the report.
"fore-warned is fore-armed" the information our report provides will allow you to make decisions with complete confidence.
---
We are the most qualified

Educated + Experienced + Certified + Insured

Deteriorating competency in the building trades combined with technically advanced building systems has ushered in a new level of professional home inspector practitioner.
The handy-guy inspector is fast becoming extinct as the consumer public demands competent professional consultation, guidance and protection during a property purchase or sale.
Our Inspectors are fully qualified, committed professionals.
We combine Grandpas skills, work ethic and integrity with advanced education and equipment
- all inspectors hold degrees in higher education
- All inspectors must pass the National Inspection Examination.
- All inspectors are certified nationally and at the state level.
- All inspectors are state licensed.
- All inspectors have minimum 5 years experience in the building trades
- All inspectors have undergone rigorous apprenticeship
- All inspectors have full background investigations
All inspectors are paid employees. We do not sub-contract
---

If you want to know who inspects the best...

... Take a look at who backs them best

We believe inspectors should "put their money where their mouth is". We don't just talk about being the best, we do it and then back it up with two guarantees. We are the only Inspection Company in Greater Hampton Roads that provides these Home Inspection guarantees.

---

Infrared Thermal Imaging included on all inspections

We truly see what other inspection company's are missing.

---

?? Frequently Asked Questions ??

Not a day goes buy that we don't get questions about what we do and how we do it. I applaud those who ask questions and do their home work (no pun intended) because they know that inspectors are different and there's no telling what you get unless you ask. We have tried to answer the most common questions about the company, Inspection process, Inspectors, Payments, etc.

---

#1 CONSUMER RATED INSPECTION COMPANY IN HAMPTON ROADS

Amazing reviews are making us see

The extraordinary reviews our clients post across the social media-sphere are indeed a testimony to our level of customer commitment. While we are humbled by such outpouring, we consider our clients evaluations to be the greatest measure of our success. testimonials page

---

Termites / Moisture

We do termite and moisture inspections and will provide the report documents you may need for settlement.

- Get pure, unbiased information from us

- We photograph and video any termite, fungi, rot and damage in the crawlspace.
Come visit and Please "like" us!

---

NEW! Inspection Video

Another first by Final Analysis. We where the first with computer reports, first with photo reports, first with online reports. Now we are the first to offer video reports. If pictures are worth a thousand words, then videos are worth a thousand sights & sounds. Now you can hear that faulty attic fan, or see the inner workings of a furnace's combustion or an active pipe leak in the far recesses of a crawlspace. Its just as if you where right there with us in that crawlspace. These videos are inserted right into the appropriate sections of your report where you just click and play.

---

Inspections completed this year

click cluster markers to see details

[includes/testimonials.htm]

---
Phone: 757.495.2300 or E-mail: